Tacoma Maternity Birth & Baby Photographer | Its of no surprise that I have taken time away from photography and films, as clearly you can see by the lack of new blog posts. Granted, I have attended more births and have met more families than my blog will show, but I did indeed take off some much needed time.
To stay relevant and "important" in the photography world, you HAVE to keep up on your social media. Facebook. Instagram. Your own personal website and blog. But, if I am being brutally honest, in this season of life, social media and web presence, for me anyways, is the last thing on my mind. Sure. I know it is needed to run a successful business with a decent sized client base. But, at what point do we say, NO, when it comes to the excess.
If you know me, then you know that I am a mother to 4 children. Four beautiful girls whom I homeschool and provide their taxi services to and from the gym. My two oldest are competitive gymnasts and my two younger ones are climbing the ladder to perhaps, *shrug*, join their sisters on the competitive team. You'd think by the amount of hours that we put into it, that either I was a gymnast, (and I most certainly was not), or that we have some sort of far fetched goals for our kids. And again. We do not. Right now, we are happy to support the thing that breathes life into their minds and bodies. It is something that they live to do. And it is positive and encouraging and it has brought confidence out of my oldest and it has brought discipline and respect out of my 10 year old. It might run my ragged, but I am happy that we are able to support them in this journey… whether it be for the long haul or for the here and now… I LOVE being a gym mom. I really do!(Also, I am falling in love with Gymnastics Photography! Granted, I really LOVE the beautiful ladies in the leotards that I am photographing, but I really enjoy capturing doing what they love, and showing them what I see. Which is strength, beauty, hard work, skill and talent. These girls put so much of themselves out there… and I just LOVE it!)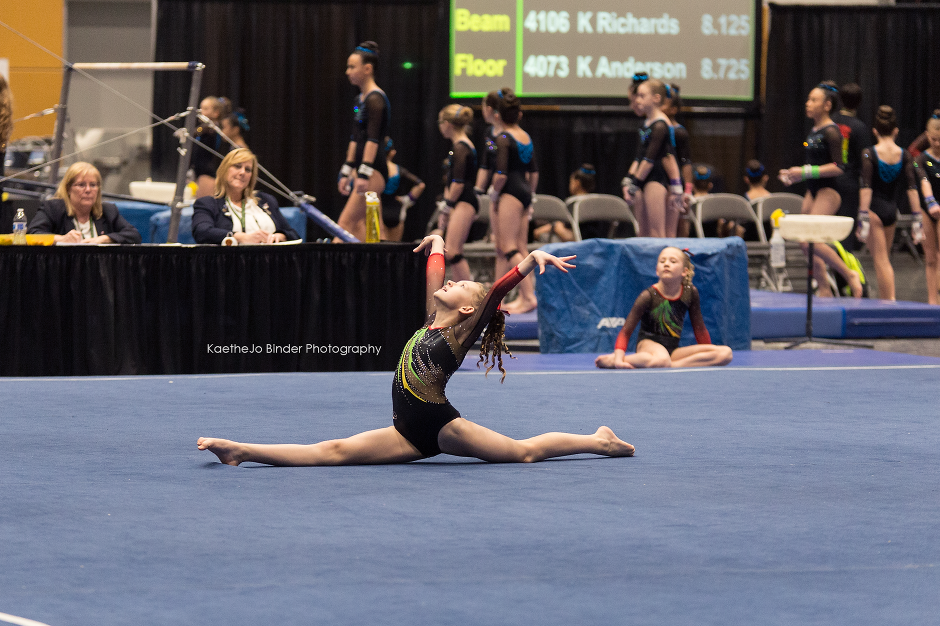 PINIMAGEHowever, the title GYM MOM, pays no respect to the daily grind… and with trying to be on call for births and producing beautiful films of said births… currently, I cannot find a way to make both of these things run fluidly alongside one another. And, it hurts my heart a bit, but I know that this is currently a season that we are in, and I can completely get behind that.
Before I knew just how hard it would be to support a traveling competitive gymnast, I decided to quietly shut down ALL operations of KaetheJo Binder Photography, from mid December – April. And, I am SO happy that I did. I didn't make a spectacle of it, I simply just took a step back, and have repeatedly apologized to clients who allowed me to start a project with them… that I have yet to finish… because, I simply don't have the capacity to be an emotive creative at the time. I am so happy with their patience and trusting in me, that once I do have that time and space, I will be able to create something so much better, than if I just sat down at 30 minute intervals and "got the job done." While as a person, that is certainly more along the lines of how I operate – as an emotional creative artist, that couldn't be further away from how I work. So. If you are one of these patient, trusting people of mine, THANK YOU!
While it isn't yet April, I have had the pleasure of meeting a sweet baby girl (whom I have photographed her family for years now), and a sweet new momma to be. Photographing these beautiful people, and creating art, breathed life back into my creative heart. While I knew I needed to step back, it was certainly hard for me to not have that creative outlet. As an artist, I yearn to create and make art. And, when that is shut down, a part of me shuts down too. These past two weeks I have felt like I was walking on sunshine! This may sound silly, but I felt good and complete.
With this breath of fresh air, I was reminded that even though I KNOW that I cannot do the Gym Mom and the Photographer side by side – that photography is something that I cannot simply quit, if even for a season. A few weeks ago, I was seriously considering closing up shop and focusing on the here and now. But, with a little leeway and grace, I know that there CAN be a space… even if it is scaled back.
Our competitive season is wrapping up and I feel like a few brick loads will be released off of my shoulders. Before I start marketing and shouting my business name all over town, I know that in order for my creative heart to be fulfilled and not overly stressed, I do have to scale it back and take on a smaller load. And, I am okay with that!
So what does that mean? For my Birth Photography Clients, that means that I will again have to shut down from December – April. I can still offer In Home Newborns, Fresh48's, Maternity and all that jazz. But I will not be able to take on a Birth Client from December – April. This hurts my heart, but I know it was the right step this year, and I know that it will be the right step next year. I will also be lessening my Birth Photography & Filmmaking load all together. Being on call is not only hard on me, but it is hard on the whole family. I will be reducing my client load to ONE PER MONTH. If you have any desire to have me photograph or film your birth, the sooner you schedule your Birth Photography consultation, the better. The only way to guarantee your Birth Photography experience with me is to have a signed contract on file and your retainer paid in full. But, please don't let this discourage you! I know and love local artists in the Birth Photography community that I would LOVE to shout their names out to you! So, even if you think you are late, please inquire! If I have a spot open, perfect, but if not, I will help you find the right photographer!!
And with that, I want to create living art! I want to work on projects that are beyond standard photography. If you have an idea… even if it seems out of this world, PLEASE contact me. Lets make something together!
xoxo
Tacoma Birth, Baby & Newborn Photography & Videography! Are you looking for a Birth Photographer in the Tacoma, Seattle, Auburn and surrounding areas? KaetheJo Binder Photography offers Birth Photography and Documentary Newborn Photography both in-hospital and in-home on location in Tacoma, Washington and surrounding cities. For more information please click the contact tab above or email me at tacomabirthphotographer@gmail.com! I look forward to documenting YOUR Birth & Family Story!
View Birth Films created by KaetheJo Binder Photography on my Vimeo Feed!